It's Post It Note Tuesday which is brought to you by
SupahMommy
!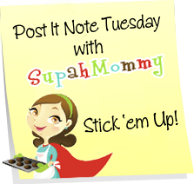 For today's Post It Note Tuesday I decided to share a funny teaching moment.
Don't you just love sweet and innocent children? :D
And because I can't create a post without a picture...here is your picture of the day!
My three favorite kids in the whole entire world, our nieces and nephew! :D Did I mention that I get to see them this week? They are coming out for Easter!